Park Assist will help you manoeuvre both into and out of parallel and perpendicular parking spaces.

Once you have switched it on, Park Assist uses sensors around your Jaguar to measure up potential parking spaces as you drive past. Once it has detected a space 20 per cent or more greater than your car, it asks you to stop, let go of the steering wheel and select reverse gear, via the Touchscreen. It then takes over the steering as you reverse. If you try to steer yourself, the system deactivates.

It automatically avoids objects and other vehicles, but you should always remain alert for children and animals in the vicinity. Because you control the accelerator and brakes, you can go as slowly as you like and stop when you need to.

If you need to change your direction for example, it will ask you to stop and choose a forward to reverse gear as necessary. It will still control the steering to park your Jaguar neatly within the space.

There are three modes: Parallel Park helps you reverse into a parking space parallel to your car, Perpendicular Park gets you neatly into a space at 90 degrees to your Jaguar and Parking Exit helps you leave the space.

To activate Park Assist auto-searching feature, you just need to slow down below 18mph. Alternatively you can activate Park Assist via the Touchscreen. You also use the button to choose which mode you need, Parallel Park, Perpendicular Park or Parking Exit and to switch the system off.

It is particularly useful in towns and cities, where finding spaces is more challenging. It will indicate spaces that you may have judged yourself to be too small. As it parks for you, you avoid those bumps and scratches that are part of all our urban parking experiences.

It isn't really suitable for trying to park on a bend, and on narrow roads with parked cars on both sides it may not be as safe. A minimum road width of 4.5 metres between parked cars is required.

The Park Assist system detects large objects like other vehicles, but may not see other hazards such as children or animals, mesh fences, bicycles or motorbikes near the curb. You should always observe your surroundings just as you do normally, when using Park Assist. If you are towing a trailer, Park Assist is deactivated.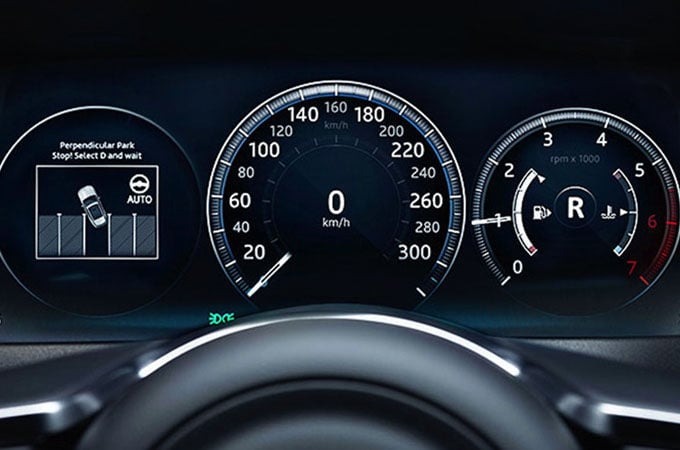 MORE PARKING AIDS
FRONT AND REAR PARKING
Sensors in the front and rear bumpers are triggered when you select Reverse. The Touchscreen display and audio feedback indicate how close you are to obstacles.

REVERSE TRAFFIC DETECTION
The system warns you of vehicles, pedestrians or other hazards, approaching from either side of your vehicle. It will alert you with both audio and visual warnings so you know what's behind you even when the view is obstructed.
To enable the Driving and Parking features for InControl Driver Assistance, there is a choice of camera options:

360° SURROUND CAMERA
For a clear view of your surroundings, the Surround Camera System provides a 360° exterior view via the Touchscreen, helping with various manoeuvres from parking by the kerb to getting in and out of tight spaces and junctions.

REAR VIEW CAMERA
Rear View Camera makes parking in tight spots simpler. Lines representing the vehicle's outer perimeter and predicted path are superimposed on the rearward image displayed on your Touchscreen.

360° PARKING AID
Parking aid sensors on the rear, front, and sides provide real-time audible and visual feedback to indicate how close you are to obstacles.